6 months ago
Electronics
Badda
227 views
Reference: 831
150 ৳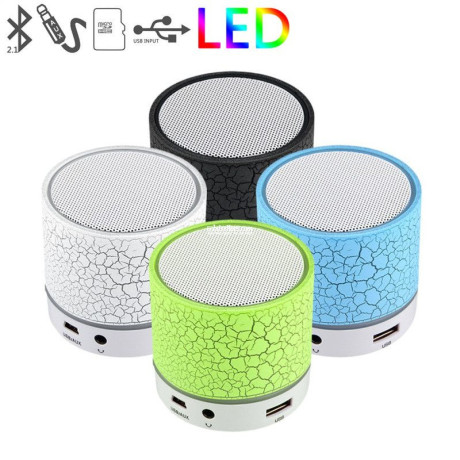 ---
Mini Bluetooth Speaker With Changing LED Lights Support FM / USB / TF / BLUETOOTH S10 - Multi Color - WLB
High quality wireless speaker enjoy the wonderful music everywhere.
Enhanced with rechargeable battery that provides up to 5 hours of non-stop music.
Brings the excitement wherever you need it, whether indoors, outdoors, or even poolside parties.
Music never STOPS!
Working Range: Up to 10 meters
Working Time: 5 hours
Battery Voltage/Capacity: 520mAh
Battery Charging Voltage: 5V
Battery Charging Time: 2 hours
Support A2DP, AVRCP, headset, handfree profile
Bluetooth Version: V2.1
Dimension: 60mm x 60mm x 50mm
Weight: 230g
Support phone/Laptop/Tablet PC
Support TF Card(mini micro card)
Modular' Buddy-jack' design: connect a row of Mini speakers to get jaw-dropping audio performance
Expanded Bxs (Bass Xpansion System) drives a fuller, richer lower-end response
New, larger 45mm driver delivers precise highs for superb sound
Multi Color
Return Policy:
If the seal is broken then the product can't be returned, unless there is a manufacturing defect.
ডেলিভারি ম্যানকে আগে টাকা বুঝিয়ে দিয়ে প্রোডাক্টটি বুঝে নিবেন।
ডেলিভারি ম্যান থাকাকালীন প্রোডাক্ট চেক করুন।
ডেলিভারি ম্যান চলে আসার পর কোনো অভিযোগ গ্রহণ করা হবে না, কোনো প্রোডাক্ট চেঞ্জ অথবা রিটার্ন হবে না। কোনো সমস্যা থাকলে ডেলিভারি ম্যান থাকাকালীন আমাদের কল দিবেন।
Country Origin
Bangladesh